Charting Progress to 2040 LONG-RANGE TRANSPORTATION PLAN OF THE BOSTON REGION METROPOLITAN PLANNING ORGANIZATION
June 2015
The Boston Region Metropolitan Planning Organization (MPO) is composed of:
Massachusetts Department of Transportation
Federal Highway Administration
Federal Transit Administration
Massachusetts Bay Transportation Authority
Massachusetts Bay Transportation Authority Advisory Board
Massachusetts Port Authority
Regional Transportation Advisory Council
Metropolitan Area Planning Council
City of Beverly
City of Boston
Town of Braintree
City of Everett
Town of Newton
City of Somerville
City of Woburn
Town of Arlington
Town of Bedford
Town of Framingham
Town of Lexington
Town of Medway
Town of Norwood
Prepared by the MPO's Central Transportation Planning Staff
This document was funded in part through grants from the Federal Highway Administration and Federal Transit Administration of the U.S. Department of Transportation. Its contents do not necessarily reflect the official views or policies of the U.S. DOT.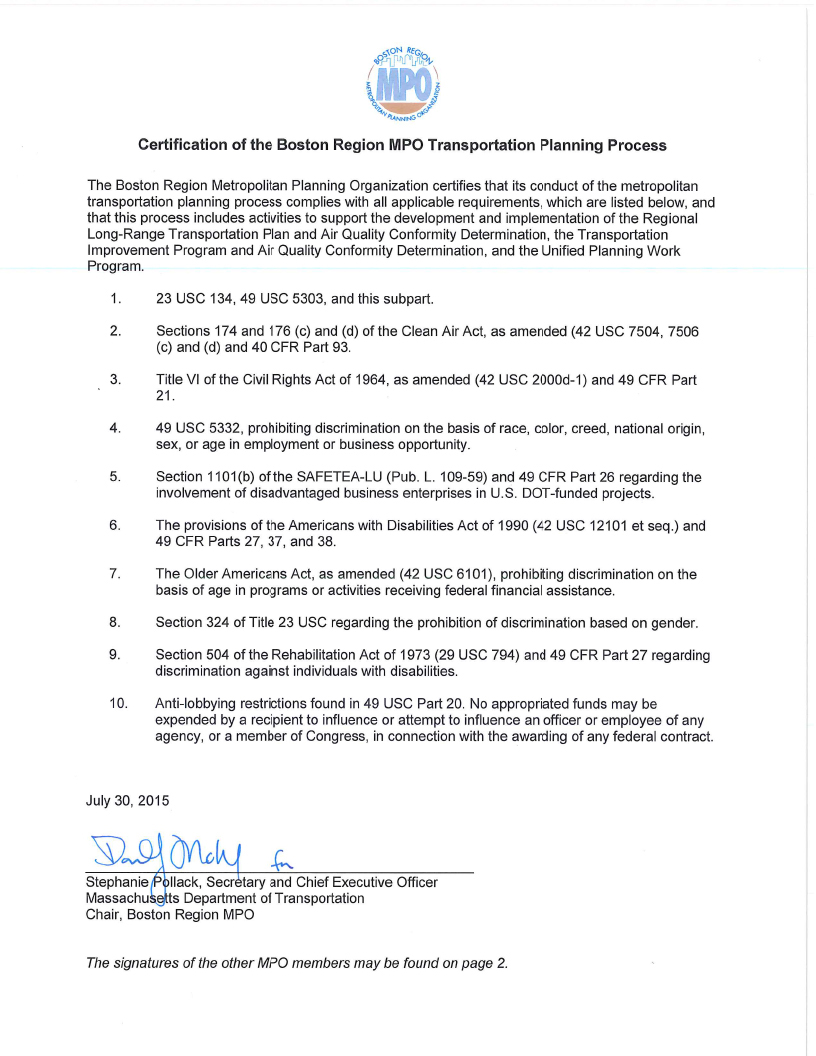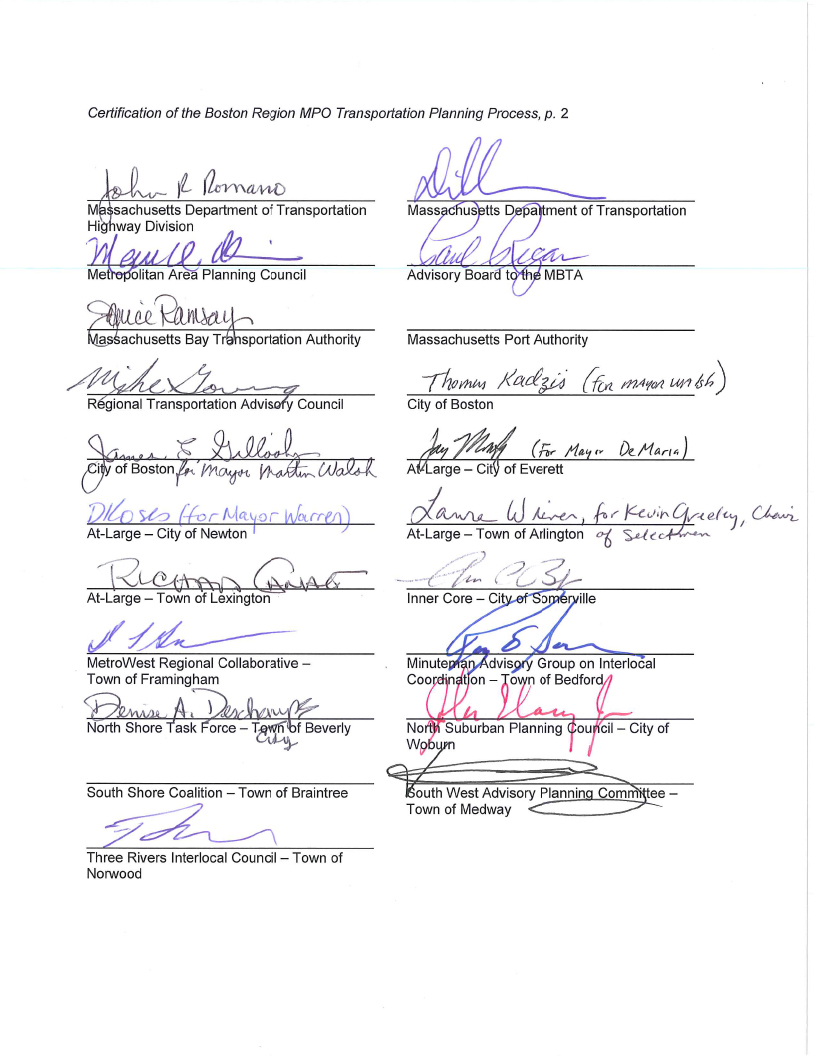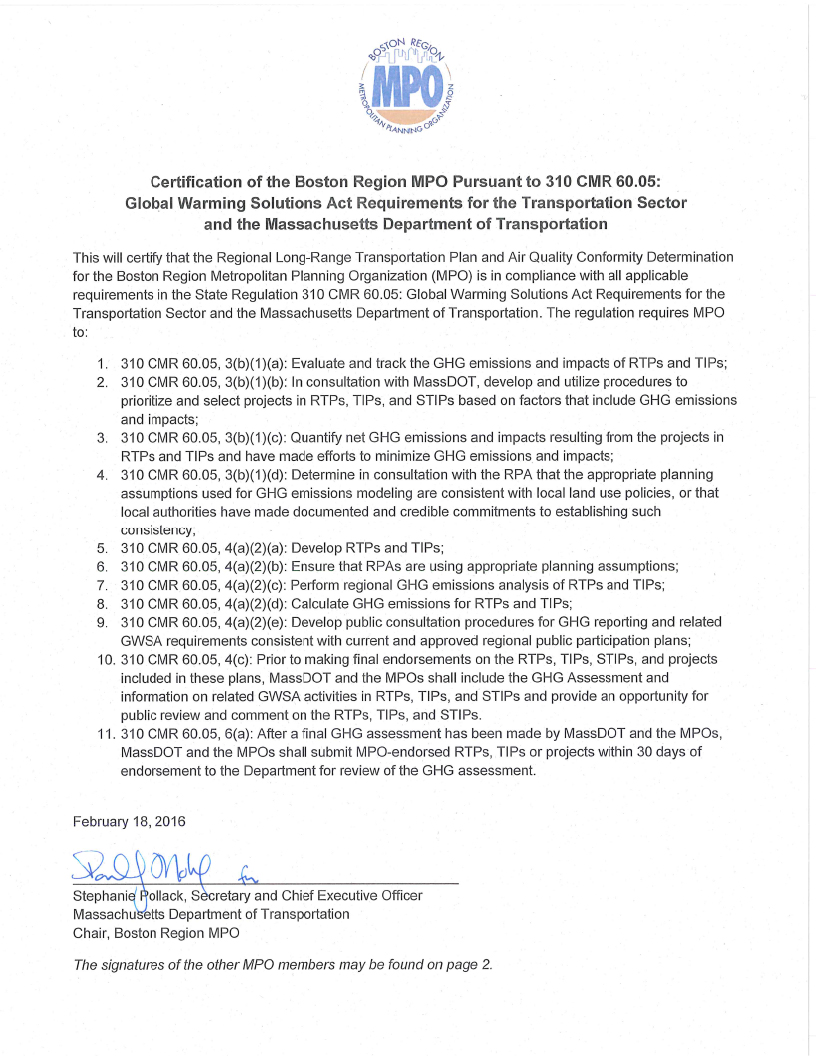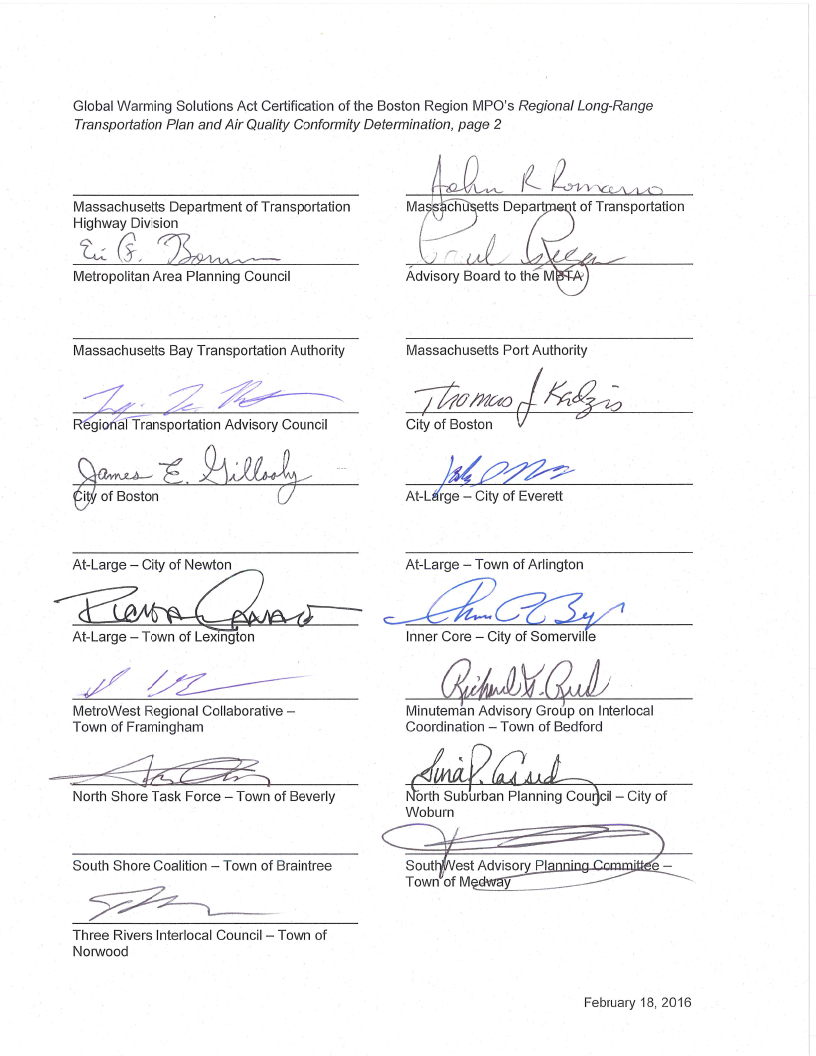 Table of Contents
Executive Summary                                                                                                        ES-1
Chapter 1 – Transportation Planning for the Boston Region                                          1-1
Chapter 2 – Process for Developing Charting Progress to 2040                                 2-1
Chapter 3 – Transportation Needs in the Boston Region                                               3-1
Chapter 4 – Funding the Transportation Network                                                            4-1
Chapter 5 – The Recommended Plan                                                                              5-1
Chapter 6 – Charting the Performance                                                                             6-1
Chapter 7 – Transportation Equity                                                                                     7-1
Chapter 8 – Air Quality Conformity Determination and Greenhouse Gas Analysis      8-1
Appendix A – Scenario Planning                                                                                       A-1
Appendix B – Universe of Projects                                                                                   B-1
Appendix C – Project Evaluation                                                                                      C-1
Appendix D – Public Comments                                                                                      D-1
Appendix E – Glossary of Acronyms                                                                                E-1
List of Figures
| | | |
| --- | --- | --- |
| Figure Number | Title | Page |
| ES.1 | MPO Vision, Goals, and Objectives | ES-3 |
| 1.1 | Boston Region Metropolitan Planning Organization Member Structure | 1-4 |
| 1.2 | Boston Region Metropolitan Planning Organization Municipalities | 1-5 |
| 1.3 | Metropolitan Area Planning Council Community Types | 1-7 |
| 1.4 | Language Spoken at Home for the Population 5 Years and Over | 1-8 |
| 1.5 | Population by Race | 1-8 |
| 1.6 | Population by Sex and Age | 1-9 |
| 1.7 | Households by Size | 1-10 |
| 1.8 | Household Income 2009-2013 (in 2013 dollars) | 1-10 |
| 1.9 | Employment by Industry as a Percentage of Total Employment | 1-11 |
| 1.10 | Employment Status | 1-12 |
| 1.11 | Means of Transportation to Work | 1-13 |
| 1.12 | Vehicles Available by Household as Percentage of Total Households | 1-13 |
| 1.13 | Commute Time | 1-14 |
| 2.1 | MPO Vision, Goals, and Objectives | 2-3 |
| 2.2 | Investment Programs | 2-8–9 |
| 2.3 | Scenario Analyses Results | 2-10 |
| 2.4 | Public Ranking of Goals (Raw scores in parentheses; a lower score indicates a higher priority.) | 2-17 |
| 2.5 | Average Allocation of Funding for MPO Projects | 2-19 |
| 3.1 | Model Areas | 3-3 |
| 3.2 | Bottleneck Locations | 3-14 |
| 3.3 | Park-and-Ride Locations with a Utilization Rate of More than 85% | 3-15 |
| 3.4 | Bicycle Parking Facilities with a Utilization Rate of More than 85% | 3-16 |
| 3.5 | Priority Bicycle Gaps and Baystate Greenway Locations | 3-17 |
| 3.6 | Transportation Equity Areas in the Boston Region MPO Regionwide | 3-21 |
| 3.7 | Transportation Equity Areas in the Boston Region MPO Central Area | 3-22 |
| 3.8 | Regionally Significant Priority Development and Preservation Areas | 3-24 |
| 4.1 | Revenue and Growth Assumptions for LRTP Development | 4-2 |
| 4.2 | Project Growth versus Funding Growth, FFYs 2016–2040 | 4-3 |
| 4.3 | Federal Highway Program, FFYs 2016–2040 | 4-7 |
| 4.4 | Federal Highway Program, FFYs 2016–2040 by Time Band | 4-8 |
| 4.5 | MBTA Federal Transit Programs, FFYs 2016–2040 by Time Band | 4-16 |
| 5.1 | Major Infrastructure Projects in the Recommended Plan | 5-9 |
| 5.2 | Mode Share Split – Person-Trips Under 2012 Base Year, 2040 No-Build, and 2040 Build Conditions | 5-55 |
| 5.3 | Transit Trips by Mode | 5-56 |
| 7.1 | Equity Analysis Zones | 7-5 |
| 7.2 | Average Transit Travel Times to Destinations for Equity Analysis Zones (Low-Income) in the 2040 No-Build and 2040 Build Networks | 7-9 |
| 7.3 | Average Transit Travel Times to Destinations for Equity Analysis Zones (Minority) in the 2040 No-Build and 2040 Build Networks | 7-10 |
| 7.4 | Average Highway Travel Times to Destinations for Equity Analysis Zones (Low-Income) in the 2040 No-Build and 2040 Build Networks | 7-10 |
| 7.5 | Average Highway Travel Times to Destinations for Minority and Non-Minority Areas in the 2040 No-Build and 2040 Build Networks | 7-11 |
| 7.6 | Average Transit Travel Times for Equity Analysis Zones in the 2040 No-Build and 2040 Build Networks | 7-13 |
| 7.7 | Average Highway Travel Times for Equity Analysis Zones in the 2040 No-Build and 2040 Build Networks | 7-13 |
| 7.8 | Average VMT for Equity Analysis Zones in the 2040 No-Build and 2040 Build Networks | 7-15 |
| 7.9 | Average Congested Vehicle Miles Traveled for Equity Analysis Zones in the 2040 No-Build and 2040 Build Networks | 7-15 |
| D.1 | MAPC Winter Council Meeting: Overview of Budgeting Activity Results | D-6 |
| D.2 | Public Ranking of Goals (Raw scores in parentheses; a lower score indicates a higher priority.) | D-7 |
List of Tables
| | | |
| --- | --- | --- |
| Table Number | Title | Page |
| ES.1 | Comparison of Available Capital Highway Funds in Charting Progress to 2040 to the Latest LRTP, Paths to a Sustainable Region  | ES-5 |
| ES.2 | Major Infrastructure Projects in the Recommended Plan | ES-8 |
| ES.3 | Funding Dedicated to Programs in the LRTP | ES-9 |
| 3.1 | Safety Needs in the Boston Region MPO | 3-5–6 |
| 3.2 | Top-25 Highway Crash Locations in the Boston Region MPO | 3-7 |
| 3.3 | Locations with Multiple Safety Needs | 3-8 |
| 3.4 | System Preservation Needs in the Boston MPO Region | 3-10 |
| 3.5 | Capacity Management and Mobility Needs in the Boston Region MPO | 3-11–13 |
| 3.6 | Clean Air and Clean Communities Needs in the Boston Region MPO | 3-18 |
| 3.7 | Transportation Equity Needs in the Boston Region MPO | 3-20 |
| 3.8 | Economic Vitality Needs in the Boston Region MPO | 3-23 |
| 4.1 | Projected Sources of Funds for Maintenance of Highway System in Boston Region MPO | 4-10 |
| 4.2 | Comparison of Available Capital Highway Funds in Charting Progress to 2040 to the Latest LRTP, Paths to a Sustainable Region  | 4-11 |
| 4.3 | MBTA Capital Finances by Five-Year Time Band | 4-13 |
| 4.4 | Comparison of Available Capital Transit Funds in Charting Progress to 2040 to the Latest LRTP, Paths to a Sustainable Region  | 4-14 |
| 4.5 | MWRTA Capital Finances by Five-Year Time Band | 4-15 |
| 4.6 | CATA Capital Finances by Five-Year Time Band | 4-15 |
| 4.7 | MBTA Revenues and Costs by Five-Year Time Band | 4-18 |
| 5.1 | Major Infrastructure Projects in the Recommended Plan | 5-7 |
| 5.2 | Funding Dedicated to Programs in the LRTP | 5-10 |
| 5.3 | Major Infrastructure Projects Programmed with Highway Funding in the Recommended Plan with Costs | 5-11–13 |
| 5.4 | Highway Bridges with Estimated Costs of More than $20 Million | 5-14 |
| 5.5 | Expansion Transit Projects in the Recommended Plan with Costs | 5-47 |
| 5-6 | Transit Expansion Projects in the Recommended Plan with Costs | 5-47 |
| 5.7 | 2012 Base Year, 2040 No-Build, and 2040 Build Scenarios | 5-52–54 |
| 7.1 | Benefits and Burdens Analysis for Average Transit Travel Times to Employment Destination Types | 7-11 |
| 7.2 | Benefits and Burdens Analysis for Average Highway Travel Times to Employment Destination Types | 7-12 |
| 7.3 | Benefits and Burdens Analysis for Average Transit Travel Time | 7-14 |
| 7.4 | Benefits and Burdens Analysis for Average Highway Travel Time | 7-14 |
| 7.5 | Average Vehicle Miles Traveled | 7-16 |
| 7.6 | Benefits and Burdens Analysis for Congested Vehicle Miles Travelled | 7-16 |
| 8.1 | Regionally Significant Projects Included in the Regional Transportation Models for the Boston Region MPO Recommended LRTP Projects: Projects under Construction | 8-17 |
| 8.2 | Regionally Significant Projects Included in the Regional Transportation Models for the Boston Region MPO Recommended LRTP Projects: Recommended Projects | 8-17 |
| 8.3 | Winter CO Emissions Estimates for the CO Maintenance Area for the Nine Cities in the Boston Area | 8-19 |
| B.1 | LRTP - Universe of Projects - Projects Currently Listed in | |
| | Paths to a Sustainable Region | B-3 |
| B.2 | LRTP - Universe of Projects - Projects That Add Capacity to the System/ | |
| | Cost More than $20 million | B-4–5 |
| B.3 | LRTP - Universe of Projects - Projects That Do Not Add Capacity to the | |
| | System/Cost Under $20 million | B-6–11 |
| C.1 | Evaluated Major Infrastructure Projects for the LRTP | C-11–12 |
| C.2 | Summary of Evaluated Major Infrastructure Projects for the LRTP | C-13 |