Connected and Autonomous Vehicles and the Boston MPO – A First Look
Project Manager
Bruce Kaplan
Project Principal
Scott Peterson
Graphics and Cover Design
Jane Gillis
The preparation of this document was supported
by the Federal Highway Administration through
MHD 3C PL contracts #32075 and #33101.
Central Transportation Planning Staff
Directed by the Boston Region Metropolitan
Planning Organization. The MPO is composed of
state and regional agencies and authorities, and
local governments.
table of CONTENTS                                                                         
2    CAV Technology Developments and Trends
2.1     Connected Vehicle Technology
2.2     Autonomous Vehicle Technology
2.4     Legislation and Testing of HAVs
2.5     Associated Transportation Markets
3    Potential Impacts of CAV Technology
3.2     Congestion and Roadway Operations
3.3     Accessibility and Mobility
3.5     Value of Travel Time and Vehicle-Miles Traveled
3.7     Parking Demand and Land Use
3.8     Active Transportation—Non-Motorized Modes
3.15      Equity—Misplaced Planning and Funding Emphases
3.16      Other Uncertainties and Risks
4    Representation in Traditional MPO Planning
4.1     Incorporation into Long- and Short-Range Plans
4.2     Travel Demand Modeling Experiences
5    Next Steps for the Boston Region MPO
5.1     Short-Term MPO Planning Actions
Figure 1 US DOT's Planned Connected Vehicle Path to Deployment, 2010-2040
Table 1 Levels of Driving Automation
Table 2 HAV Market Penetration Projections, 2020s-2050s.
Figure 2 Estimated Shares of US Light Duty Vehicles with Advanced  Automation under Varying Future Conditions
Table 3 Trip Based Model HAV Representation Strategies
Table 4 HAV Representation Strategies in Activity-Based  MPO Travel
             Demand Models
Table 5 Recommended Actions for Specific Boston Region MPO Programs
             and Plans
Connected and autonomous vehicle (CAV) technology is imminent. Although fully autonomous vehicles may not arrive until a few decades from now, the potential consequences for transportation planning could be far reaching—extending to areas of safety, energy consumption, air quality, congestion, travel times, equity, and accessibility. In fact, CAV technology holds the potential to change the entire shape of the transportation industry as we know it, not only for the Boston region, but for the nation. As such, FHWA has asked all MPOs to engage in preparing for the advent of this new technology—not just actively, but proactively. FHWA's handbook for MPOs, Connected Vehicle Impacts on Transportation Planning–Outreach to the Planning Community, will guide us as we incorporate CAV concerns into our planning practices.  
As a "first look," we begin this report by reviewing some developments in CAV technology; we also discuss the range of potential benefits and impacts that could result once it is in use. Section 5 of this report recommends concrete actions that the Boston Region MPO can take now in order to incorporate—and simultaneously understand—CAV. Some suggestions are along the lines of keeping current with new trends in CAV technology locally and nationally, and developing our own strategic action plans. Other recommendations involve integrating CAV technology into specific MPO plans and programs. Table 5 contains a list of 20 such measures, grouped into the three major MPO product categories of data/planning tools, planning processes, and outreach.
As often the case with new technologies, CAV is changing by the day. There is no question that introducing CAV technology will have an impact on transportation, public and private. However, because the nature of this technology's development and deployment is uncertain, we cannot predict its impact accurately. Moreover, there are numerous risks and deep concerns about CAV, both personal and social—issues of legal liability, privacy, reliability, and cybersecurity, for example—that have yet to be addressed.
Certainly the Boston Region MPO should stay informed and adjust its policies and programs appropriately; but quite possibly the most apt tool we can bring to transportation planning at this time is flexibility. The MPO needs to be able to respond nimbly, as this technology rapidly evolves. Making investment decisions about future transportation projects is always challenging. But doing so while a new technology is unfolding, which could change the transportation landscape so unequivocally is daunting. With challenge, however, comes opportunity. Currently, the MPO is faced with the opportunity to help shape this future. We should participate; learn all that we can, apply all that we know; and stay nimble in our response.

Connected and autonomous vehicle (CAV) technology has the potential to change transportation patterns dramatically in the Boston region and the nation. Equipping passenger, freight, and transit vehicles with this technology could have far-reaching consequences for safety, energy consumption, air quality, congestion, travel times, equity, and accessibility, depending on how and when the technology is adopted. Our region's governing agencies will need to rethink the tools and assumptions used to conduct transportation planning in light of this new technology.
While the adoption of fully autonomous vehicles may not be realized for decades, the Boston Region Metropolitan Planning Organization (MPO) must begin to understand the transportation planning consequences of CAV technologies now—as the MPO, through the Long-Range Transportation Plan (LRTP), makes investment decisions on infrastructure projects that will be implemented over the next twenty-five years. Moreover, the Federal Highway Administration (FHWA) has asked MPOs to be proactive in preparing for the potential implementation of these new technologies. This study attempts to provide understanding about CAV technology in several key areas:
Although connected vehicle (CV) technology is often associated with autonomous vehicle (AV) technology, they are two distinct entities. This section delineates the differences between them; details some of their synergistic possibilities in various transportation markets; reviews differing rates of their adoption; documents local examples of vehicle testing; and provides an overview of the current federal and state legal landscape regarding CAV vehicles. 
Connected vehicle technology is geared towards enabling safe, interoperable, networked wireless communications among vehicles, transportation infrastructure, and passengers' personal communications devices. Vehicle-to-vehicle (V2V) communications use on-board devices to transmit and receive messages about a vehicle's speed, heading, brake status, and other relevant information in order to assess threats to the driving experience and warn drivers accordingly. Vehicle-to-infrastructure (V2I) enables vehicles to exchange information with infrastructure, resulting in mobility and environmental benefits.1
Federal, state, and local agencies are supporting deployment of CV technology through various initiatives such as the US Department of Transportation (USDOT) Connected Vehicle Pilot Deployments; National Highway Traffic Safety Administration (NHTSA) rulemaking efforts; federal grants and guidance documents; programs such as the Smart City Challenge and the American Association of State Highway and Transportation Officials' (AASHTO) SpaT Challenge; and initiatives in several states that are exploring usage of V2I technology.
The rate of V2V technology development and adoption is driven largely by investment decisions among automobile manufacturers, which in turn are influenced by market pressures and a potential rule from NHTSA that would require dedicated short-range communication (DSRC) capability in light-duty vehicles. As shown in Figure 1 below, the US Government Accountability Office (GAO) estimates high levels of V2V and V2I deployment by 2040 contingent on the success of intervening steps.2
Figure 1
US DOT's Planned Connected Vehicle Path to Deployment, 2010-2040

Source: GAO. (2015). Intelligent Transportation Systems: Vehicle-to-Infrastructure Technologies Expected to Offer Benefits, but Deployment Challenges Exist. Washington DC: Government Accountability Office. doi:GAO-15-775.
In an effort to help standardize descriptive language for CAV technology, the Society of Automotive Engineers International published a document (J3016) that defines six levels of driving automation, with level 0 being no automation and level 5 being full automation in all driving modes. The USDOT incorporated these six levels into its 2016 NHTSA policy guidance. Vehicles operating at or above Level 3 have been dubbed highly autonomous vehicles (HAVs). Connected vehicle technology, such as V2V and V2I, will work in concert with automated vehicle technology in HAVs.
Table 1
Levels of Driving Automation
Level

Name

Description

Human driver monitors the driving environment:

0

No Automation

The full-time performance by the human driver of all aspects of the dynamic driving task, even when enhanced by warning or intervention systems.

1

Driver Assistance

The driving mode-specific execution by a driver assistance system of either steering or acceleration/deceleration using information about the driving environment and with the expectation that the human driver will perform all remaining aspects of the dynamic driving task.

2

Partial Automation

The driving mode-specific execution by one or more driver assistance systems of both steering and acceleration/ deceleration using information about the driving environment, and with the expectation that the human driver will perform all remaining aspects of the dynamic driving task.

Automated driving system monitors the driving environment:

3

Conditional Automation

The driving mode-specific performance by an automated driving system of all aspects of the dynamic driving task with the expectation that the human driver will respond appropriately to a request to intervene.

4

High Automation

The driving mode-specific performance by an automated driving system of all aspects of the dynamic driving task, even if a human driver does not respond appropriately to a request to intervene.

5

Full Automation

The full-time performance by an automated driving system of all aspects of the dynamic driving task under all roadway and environmental conditions that can be managed by a human driver.
Source: SAE International. Automated Driving. https://www.sae.org/misc/pdfs/automated_driving.pdf.
Opinions about when HAVs will appear vary widely. Some of the latest research, based on previous vehicle technology deployment, suggests that although HAVs will be available for purchase in the 2020s, they would remain a minority of vehicles on the road until the 2050s. As Table 2 shows, although most vehicle travel will occur by HAVs in the 2040s, they still won't be the majority of vehicles on the road until the 2050s. Industry estimates are more optimistic, predicting that HAVs will be ready for use by the end of this decade and early 2020s.3
Table 2
HAV Market Penetration Projections, 2020s-2050s
| | | | | |
| --- | --- | --- | --- | --- |
| Stage | Decade | Vehicle Sales | Vehicle Fleet | Vehicle Travel |
| Available with large price premium | 2020s | 2-5% | 1-2% | 1-4% |
| Available with moderate price premium | 2030s | 20-40% | 10-20% | 10-30% |
| Available with minimal price premium | 2040s | 40-60% | 20-40% | 30-50% |
| Standard feature included on most new vehicles | 2050s | 80-100% | 40-60% | 50-80% |
Source: Litman, T. Autonomous Vehicle Implementation Predictions: Implications for Transport Planning. Victoria Transport Policy Institute, July 18, 2017: 13.
Figure 2, on the next page, displays a range of projected CAV vehicle shares for various automation levels and features for a range of possible adoption scenarios.
Figure 2
Estimated Shares of US Light Duty Vehicles with Advanced
Automation under Varying Future Conditions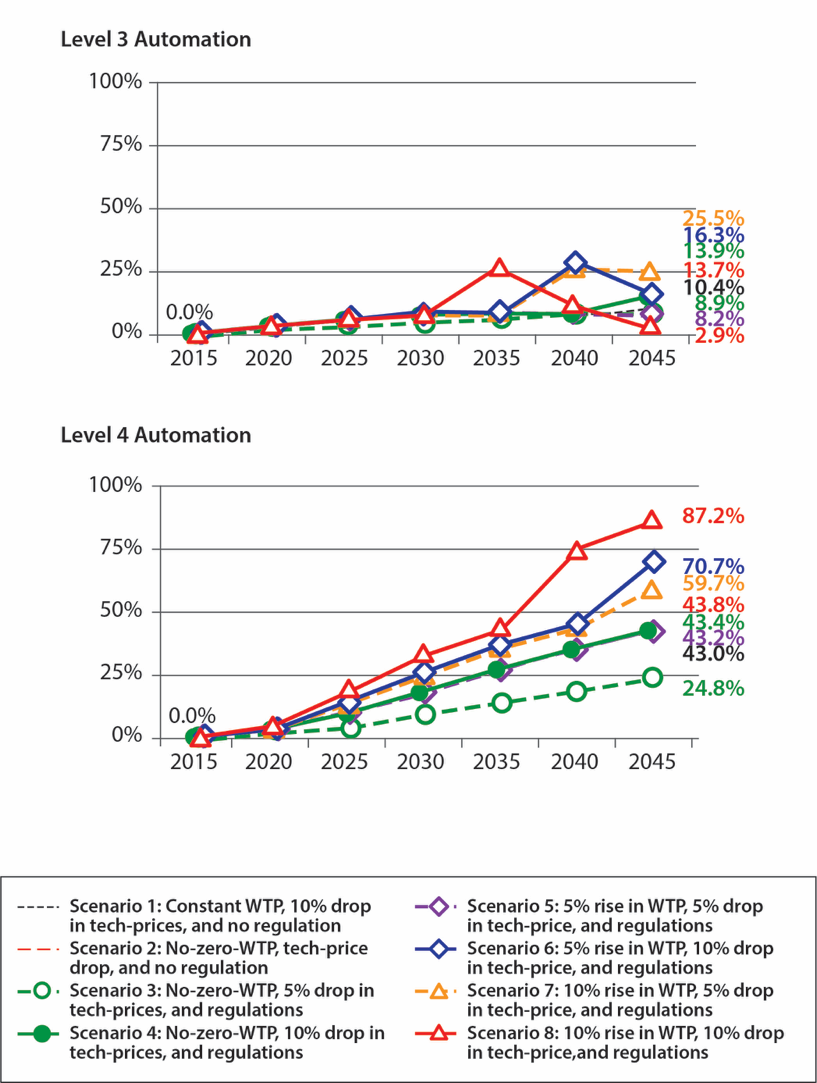 WTP = Willingness to pay.
Source: Kockelman, K.M., Avery, P., Bansal, P., Boyles, S.D., Bujanovic, P., Coudhary, T., et. al. Implications of Connected and Automated Vehicles on the Safety and Operations of Roadway Networks: A Final Report. Austin, TX: Center for Transportation Research, University of Texas at Austin, Texas Department of Transportation, 2016, FHWA/TX-16/0-6849-1:50.
The Boston Consulting Group, sponsored by the World Economic Forum, recently conducted Boston-specific survey research on potential HAV adoption and usage. Listed below are the initial findings.
The public sector has great interest in CAV technology. NHTSA released its Federal Automated Vehicles Policy, updated September 20, 2016, to aid the deployment of safe, highly autonomous vehicles. On September 6, 2017, the US House of Representatives passed the SELF DRIVE Act, which eases CAV development and deployment. As of September 2017, 21 states and Washington DC have passed legislation related to autonomous vehicles; and legislation is pending in many other states. Executive orders related to autonomous vehicles were issued in four additional states.6 As of June 2017, two Massachusetts Senate and six Massachusetts House bills regarding AV policy had been filed. The Autonomous Vehicles Working Group, chaired by the Massachusetts Department of Transportation (MassDOT), has drafted proposed regulations as well.
HAV testing has occurred this year in the Boston area. Cambridge-based NuTonomy has already completed two rounds of HAV testing, one of which occurred on the roads of the Raymond L. Flynn Marine Industrial Park. The latest round of testing is taking place in the South Boston Waterfront District. Both Peugot and Lyft have signed partnership agreements with NuTonomy. Two other companies—Optimus Ride and Delphi—have been approved for HAV testing in the Marine Industrial Park. But, as of this writing, neither of these companies has actually performed on-road HAV tests.7
CAV technology is expected to influence other transportation markets heavily. Shared mobility services, increasingly prominent in urban areas, are expected to benefit from improved CAV technology. Ridesourcing transportation network companies (TNCs) such as Uber and Lyft have even suggested moving to a shared autonomous vehicle (SAV) model, in which a subscriber would be able to use a convenient on-demand driverless taxi service, potentially eliminating the need for vehicle ownership.
In addition, CAV technology will be able to make transit faster, more convenient, more efficient, and more reliable. Real-time data stemming from the technology could be used to enhance customer experience, and ensure transfer protection. Furthermore, this data could be used to integrate services among different transit providers, which could result in smoother, more seamless travel.
There is significant speculation about how CAV technologies would affect society if, when, and how they are adopted and deployed. Myriad impacts and outcomes are possible because of the extremely uncertain nature of the technology's development and deployment. Thus, we may see effects that are contradictory to anticipated outcomes or unanticipated consequences because of uncertainties with the technology and with the ways that people will interact with it.
One of the most promising outcomes predicted for CAV adoption is improvement in personal safety. Greater than 90 percent of adverse vehicle incidents are caused by human error. CAVs can address human errors caused by fatigue, distraction, under-reaction, over-reaction, and limited situational awareness. The technology could also result in improved safety for vehicle operation in hazardous and critical areas, such as parking in tight spots and travel in work zones; and driver stress could be greatly reduced. The resultant potential drastic drop in adverse incidents could not only save lives, it could also reduce health-care costs, improve productivity, and reduce the need for emergency responders.9
However, one study posits that 49 percent of crashes involve at least one limiting causal factor that could reduce the effectiveness of or even disable CAV technology.10 Other authors note that perceived improvements in safety may actually result in riskier behaviors by roadway users, thus offsetting the potential benefit in a risk/reward scenario. Drivers or vehicle occupants may pay less attention to the road because of a false confidence in the imperfect HAVs. Pedestrians and cyclists may engage in riskier behavior (such as jaywalking) and pay less attention, assuming that HAVs will always stop for them, offering them perfect safety.11
Other authors note that not all crashes are caused by drivers. Roadway conditions, vehicular failures, environmental factors such as weather, and the behavior of other roadway users such as cyclists, pedestrians, and other vehicle occupants contribute to accidents. Riders may choose to not use proven safety devices such as seatbelts and airbags, thinking they would always be protected. This might especially be critical prior to complete market penetration and adoption of HAVs, when HAVs need to operate in mixed traffic. Authors also call into question the premise that computer algorithms would be superior to the predictive knowledge gained by years of driving experience.12  
It is not clear how HAVs and SAVs will affect congestion and roadway operations. CAV technology could assist in optimizing roadway usage through efficient vehicle operations and transportation system efficiency. Closer vehicle spacing resulting from CAV technology could enable faster travel speeds and times, as well as free up roadway space for greater numbers of vehicles to use. Vehicle platooning could be facilitated, resulting in smooth traffic flow. Traffic could flow smoother, and congestion, especially incident-caused congestion, could decrease. Travel times could become more reliable as delay is reduced.13
On the other hand, CAV technology could worsen congestion. Initial HAVs may require maintaining longer distances between vehicles than auto drivers currently use; this could lead to slower traffic flows until the technology is perfected. The convenience offered by HAVs and SAVs may lead to increased trip making, which may exacerbate existing congestion.14 Benefits from CAV technology may also have less of an impact on non-limited access roadways than anticipated. Conflicting turning movements, pedestrians, and bicyclists are among the issues with which CAV technology has had trouble.15   
Regardless, deployment of CAV technology—even at the lower levels—could benefit roadway operations in other ways besides improving vehicle flow. It could influence other system-wide congestion-management efforts and improve travel times and speeds by interfacing with existing transportation technology. Intersection signal control and transit system priority could be improved. More efficient ramp and highway merging could improve the highway metering process. Tolling and managed lanes would be easier to use and operate. The technology could result in better collection of effective real-time travel information, thus leading to better roadway operations and management. Better dissemination of information to roadway users could occur and the need for variable message signs could disappear.16
HAVs could improve accessibility to employment, health care, education, commerce, and other essential services. HAVs could offer the opportunity for independent travel to those segments of society currently unable to operate automobiles—the elderly, youth, disabled, impaired, and those who have no license, for example. Travel would not be prohibited if a person did not own a car or live near transit services. Intermodal mobility could be enhanced by HAVs, as they can assist with providing first- and last-mile connectivity to transit service.
One of the anticipated benefits of CAV technology is that it would free up travel time otherwise spent driving, which in theory would allow people to be more productive. However, a recent study asserts the opposite, claiming that 62 percent of Americans would not be more productive using HAVs.17 The authors estimate that productivity would be hampered by a 6 to 12 percent increase in motion sickness in HAVs among the population that attempts to multi-task during travel.18 The authors cite several safety factors of concern: lack of confidence in the vehicle to function correctly and safely; questions about the vehicle being able to protect people adequately in the non-seated position/posture; and safety issues about untethered objects that potentially are being used for productivity. Another issue is that the average HAV trip length from this study was calculated to be 19 minutes, which was deemed not long enough to offer time to be productive.19
With HAVs, the value of travel time could decrease because every travel moment could be viewed (and monetized) as a chance to be productive,20 instead of perceived as components of the burdensome task of getting from one place to another. Further, the ease of travel associated with HAVs could result in more discretionary trip making, which would result in more vehicle-miles traveled (VMT). One study estimated that the increased mobility offered by HAVs for current non-drivers would increase overall demand for transportation by 11 percent.21 The personalized comfort of HAVs, and their potential for productivity, could result in greater willingness to endure longer trip lengths routinely, which also would increase VMT. Some have projected that there could be as much as a 75 percent increase in VMT after HAVs are introduced.22 On the other hand, increases in VMT might be somewhat mitigated by more efficient travel paths.
Air quality stands to be affected positively by the introduction of CAVs. The efficiencies associated with automated driving, such as fuel-efficient braking and acceleration, would lead to better vehicle performance and better fuel economy, which translates into less vehicle emissions and energy usage. The enhanced safety associated with CAV technology would result in fewer adverse vehicle incidents on roadways, so emissions associated with vehicle backup and congestion during the incidents would be curtailed. Self-parking by CAVs would be designed to be optimally efficient and would eliminate "cruising" by drivers to locate parking spaces, so associated emissions with this phenomenon would be reduced.23 All of these elements could improve energy efficiency by 2 to 25 percent depending on assumptions.24
Conversely, increased trip making, longer trip lengths, and greater VMT associated with HAVs could lead to more emissions and greater energy expenditure. Research attempting to quantify the energy impact of all of these effects and others showed total road travel energy demand shrinking by 40 percent in the most optimistic scenario and approximately doubling in the most pessimistic case.25
Some have estimated that introduction of HAVs could eliminate the need for on-street parking and reduce the need for off-street parking facilities by 80 percent.26 Furthermore, HAVs could park optimally, using as little land as possible. Land—often valuable—currently used for parking could be freed up and reused for other types of development. The land that would be designated for HAV parking could be located in inexpensive areas.
However, many planners see HAV technology as having the potential to cause either utopia or nightmare in terms of development. HAVs could result in the creation of densely concentrated mixed-use walkable transit-oriented districts. Not having to think about parking could make urban life extremely attractive.27 HAVs could also result in auto-oriented low-density sprawl driven by increases in trip making and trip lengths based on the perceived convenience and comfort of the new mode.
Non-motorized modes such as cycling and walking are expected to benefit from the improved general road safety resulting from introducing HAVs; as the increasing presence of HAVs on the road are anticipated to reduce the overall number of vehicle crashes with bicyclists and pedestrians.28 However many concerns and questions persist. Can an HAV account for the safety, comfort, and convenience of other road users such as bicyclists and pedestrians? Or will it always favor the HAV? How will non-HAV users on the road be able to perceive and anticipate HAV action? Will walking and biking for short trips be abandoned for convenient HAV usage? If so, will this make congestion and air quality worse? HAV impact on land use and development patterns will also affect non-motorized modes. If HAVs result in more compact land use patterns, there might be greater opportunities (and facilities) for cycling and walking. If HAVs result in auto-oriented sprawl, there may be little to no opportunities or facilities for walking or bicycling in new development. Non-motorized consideration may fall by the wayside if everyone is using HAV.
Automobiles equipped with CAV technology are initially expected to cost roughly 35 percent more to purchase than regular vehicles.29 When combined with service costs, this could result in an increase of annual costs of between $1,000 and $3,000 per vehicle. This annual cost would not be wholly offset by anticipated savings in fuel and insurance spending.30 Using an SAV for travel is not predicted to be cost-effective if a person's annual VMT is more than 6,000 miles.31
The convenience and independence offered by having HAVs available at all times might reduce peoples' desire to own a vehicle. A study predicted that 43 percent fewer households would own automobiles following the introduction of HAVs.32
The freight industry—which currently is operating many pilot deployments of CAV technology—could reap significant monetary benefits from the ability to move goods more safely and efficiently. The efficiencies resulting from freight HAVs could result in higher fuel economies for vehicles, shorter travel times, and fewer adverse vehicle incidents, among other things. Also, vehicle operators would no longer be needed, which would result in cost savings.33
There is no question that the introduction of CAV technology will impact public transportation. But opinions are split about whether this impact will be positive or negative.
The most probable scenario is that HAV introduction would severely negatively impact public transportation. HAVs offer the possibility of personal, faster, more convenient, and more reliable door-to-door service. Many current transit users would shift modes to HAVs. This shift would be felt especially during off-peak periods and on lower ridership and capacity routes.34 The performance of such services, often serving transit-dependent populations, would suffer. Consequentially, transit service could be cut as both patronage and revenue drop. Furthermore, as fewer people use transit, less government funding might be made available for transit agencies' capital and operating expenses. A loss of government subsidies might result in further service cuts to this heavily subsidized industry. Research also suggests that the focus on HAVs distracts from and marginalizes public transit, perpetuating the current auto-centric transportation system.35
Two specific transit markets that might suffer the greatest percentages of losses from HAV introduction are long-distance commute trips and intercity trips, especially rail ones. Current patrons of these services tend to be wealthier, so they might be willing to pay more for door-to-door service instead of accessing current service at commuter rail/bus terminals.36
Yet there may be hope for public transportation. As mentioned earlier, CAV technology stands to improve the efficiency and efficacy of transit, which would lead to higher ridership. Also, the steep initial costs of CAV technology may be prohibitive, either in terms of ownership or TNC usage. As the nation's vehicle mix starts to include more HAVs, people might choose options other than car ownership; they might turn to transit. HAVs can assist with providing first- and last-mile connectivity to transit stops, which could induce more transit travel. The proliferation of HAVs and the establishment of separate HAV facilities, such as grade-separated lanes, might result in fewer vehicles using the "mixed" transportation system, which could result in less competition for buses, allowing them to perform better.
HAV technology stands to benefit transportation network companies in both the long and short terms. As stated above, the initial high costs of HAVs may cause people to choose options besides car ownership, such as using TNCs. If the ownership and operating costs of HAVs persist in being unaffordable to many, TNC usage could become permanent.
HAVs themselves could present a major opportunity to transform the nature of the TNC industry. TNCs could become exclusively driverless shared autonomous vehicle fleets. Some researchers have estimated that a single SAV might be able to replace between 8 and 12 automobiles.37 Researchers also have indicated that SAVs operating in densely populated areas with low roadway congestion might not produce the increase in VMT that has been projected as a byproduct of HAV usage.38
On the other hand, conversion to SAV fleets could cause significant issues for TNCs, as essentially TNCs would then become driverless taxi services. Although eliminating drivers would result in a savings for TNCs in the realm of employee salaries, it also could cause increases in overall operational and capital costs because vehicle maintenance and purchases would be the sole burden of the TNCs. Revenue time and miles would be lost as SAVs travel deadhead (that is, without fares) to trip origins. Moreover, increased usage of SAVs would mean increased frequency of cleaning and servicing. In addition, the absence of a physical driver could increase incidences of vandalism to the vehicles. Finally, SAVs themselves might become unattractive to potential patrons for a number of reasons: Customers would no longer to be able to ask drivers for assistance with luggage or local knowledge. People might shy away from an SAV designed to minimize operational and maintenance costs, deeming it to be uncomfortable and lacking the accessories (radio, TV, plugs, ports) that they have come to expect. Also, riders might not want to have their entire travel experience recorded.39
HAVs appear to present quite a few economic benefits. The improved accessibility and mobility afforded by HAVs could result in more people being able to participate in the labor force. Fewer working hours would be lost because of travel-related issues—for example, time spent driving others, experiencing congestion, and delays because of road incidents. Furthermore, as travel time in an HAV could be used productively, people might be willing to tolerate longer trips. Thus, commuting distances might increase and employers could draw upon labor pools previously deemed too far away. The potential for fewer road incidents and crashes would lead to cost savings. In the long run, more efficient vehicles would lead to lower operating costs for owners. If motorists shift to using SAVs that are HAVs or to TNCs that employ HAVs, their auto ownership costs stand to plummet or disappear as private vehicle ownership decreases.
However, the introduction of HAVs could have profound economic effects on peoples' livelihoods. Employment associated with the automobile industry would decrease in the long run if fewer vehicles were needed overall because of vehicles' increased longevity. Professional drivers—including delivery people, cabdrivers, TNC drivers, freight operators, and school bus drivers—would need to find new work. In addition, the potential reduction in crashes, along with increased vehicle longevity might cause less demand for vehicle repair jobs.40
However, these new technology and transportation services likely would spawn new employment opportunities that could somewhat offset such expected job losses. The advent of HAVs also could affect public revenue streams; municipalities currently collect money from parking in many ways, and states collect various taxes (including excise and gasoline taxes) associated with vehicle use.
There is concern about how the introduction of HAVs and SAVs will impact issues surrounding social equity. Low-income residents may be unable to afford HAVs or SAVs if higher operating, maintenance, and upfront capital costs make them cost-prohibitive. In an age of limited resources, favoring HAVs may lead to transit service cuts, not to mention the degradation and decline in safety of existing service and facilities. If transit-dependent riders are then forced to use HAVs and SAVs, they may have to pay more than their current fare, especially if the TNC surge price model is retained. Residents' health could suffer if SAV and HAV facilities are prioritized in favor of promoting non-motorized transportation modes and facilities. There might even more cost-effective transportation solutions—such as transit, transportation demand management (TDM) strategies, and non-motorized transportation—to problems like congestion and poor air quality than HAV/SAV provision.41
Many other concerns about this emerging industry still exist. For example, issues of legal liability have yet to be determined; who would be liable in the case of an accident? Issues of privacy will arise, as another entity is ultimately controlling an automated vehicle. There are deep concerns about cybersecurity, both on the personal and the social level, especially given the recent trend of terrorists using vehicles as weapons. There are worries about the reliability of the technology. People have experienced their cellphones, computers, and networks suddenly crashing for a variety of technical reasons. Would this be the case with a vehicle under computerized control? Will HAVs even be able to perform in extreme conditions? It remains to be seen how humans will interact with HAVs and vice versa. Will an HAV be able to predict human behavior adequately relative to it? Will humans use CAV technology responsibly? Or will they engage in wasteful, risky behavior, trying to exploit HAVs for their own benefit?  
Planners have begun to address the future adoption of CAV technology in three areas—long- and short-range planning, travel demand modeling, and scenario planning.
Although CAV technology currently has a high national profile, it has made very few appearances in recent city and regional planning documents; for example, it has not been included in a single MPO Transportation Improvement Program (TIP), as of September 2017. A 2015 survey of plans produced by most of the 68 largest communities in the US noted that only six percent of plans consider the potential impact of driverless technology; and only three percent take into account TNCs, despite the fact that TNCs already operate in 88 percent of US communities.42 Listed below are several prominent examples of CAV mention in LRTPs or municipal plans.
Regional travel demand models have historically been used for many purposes by MPOs. They have played major roles in regional feasibility studies and alternative analyses as well as in federal grant applications, such as New Starts, and required MPO products, such as the LRTP. Federal and local environmental documents have also depended on air quality computations linked with regional travel demand models. In the current National Cooperative Highway Research Program Project 20-102 (09)—Providing Support to the Introduction of AV/CV Impacts into Regional Transportation Planning and Modeling Tools—guidelines and information for MPOs and state DOTs are being developed to more appropriately account for the expected impacts of CAV technology in modeling and forecasting tools.
Only a few metropolitan areas have used regional travel demand models to measure the impacts of CAV technology; and even fewer attempts have been made to model SAVs.46 Modelers have attempted to represent the perceived impacts caused by HAV introduction into transportation systems by making adjustments to roadway capacities, vehicle operating costs, and access and egress times. Other frequently modified elements are travel time skim matrices, transit trip tables, and mode choice parameters, such as parking costs, value of time, and vehicle availability. The other major assumption made in all of the modeling work concerns market penetration rates.
Trip-Based Models
Two separate tests for HAV introduction were made using the regional model maintained by the Capital Area Metropolitan Planning Organization, the MPO for Austin, Texas. The first effort focused on adjusting the coefficient of in-vehicle travel time in the model's mode choice sub-model to reflect the less onerous nature of in-vehicle time associated with HAVs. Only slight increases in auto person trips and VMT (less than one percent) occurred even when the in-vehicle time parameter was reduced by 75 percent. The increased attractiveness of auto travel severely affected transit, which lost between 25 and 30 percent of its ridership. Local bus trips were the most affected of all transit modes, losing more than 70 percent of ridership.47 A more recent modeling effort took an incremental approach to evaluating projected impacts of HAV technology on the transportation network following the mode choice routine. Roadway capacities were expanded to represent additional travel lanes and increases in hourly volumes on freeways and arterials. Transit trip tables were modified to represent various anticipated shifts from transit to HAVs and SAVs. Not surprisingly, AM period VMT rose as incremental steps were tested, although even in the worst case, it was less than eight percent from the baseline scenario. Uncongested AM period travel, occurring on roadways where the 85 percent volume-to-capacity ratio is not met, rises to more than 90 percent in the best-case scenario from a baseline figure of nearly 75 percent. Not surprisingly, capacity improvements appear to be the major drivers of these changes, most specifically the increase in hourly lane capacity.48
Auckland, New Zealand also tested the introduction of HAVs and SAVs with its regional travel demand model. Car occupancy rates by trip purpose were increased, along with link capacities and traffic flow rates, to simulate a 75 percent market penetration by HAVs. As a result, car vehicle trips in the AM peak period dropped between 12 and 17 percent while car person-trips rose slightly (less than 10 percent); average roadway speeds increased between five and seven percent; vehicle trip lengths rose slightly; and transit mode share fell approximately six percent regionally, with the most severe drop occurring in the central business district, where it fell by about 30 percent.49  
Introduction of HAV technology was tested by the Fehr and Peers consulting firm using seven different regional MPO travel demand models. Eight separate distinct model components representing various aspects of CAV technology were adjusted (see Table 3 below). In terms of modeling results, VMT increased between 12 percent and 68 percent in each of the seven tested regional models. In five of the models, transit trips dropped between 8 and 43 percent, while transit trips rose by 5 percent and 16 percent in the other two models.50
Table 3
Trip Based Model HAV Representation Strategies
| | | | |
| --- | --- | --- | --- |
| Adjustment Technique | Austin | Auckland | Fehr & Peers |
| Decrease access times | | | x |
| Decrease parking costs | | | x |
| Decrease vehicle operating/ownership cost | | | x |
| Increase willingness for longer trip lengths | | | x |
| Increase auto availability | | | x |
| Increase freeway capacity | x | x | x |
| Increase arterial capacity | x | | |
| Increase in non-work trips | | | x |
| Increase vehicle occupancy | | x | x |
| Improve auto IVTT/value of time | x | | |
| Move transit trips to SOV/HOV | x | | |
HOV = High occupancy vehicle. IVTT= In-vehicle travel time. SOV = Single-occupant vehicle.
Activity Based Modeling
More CAV modeling efforts have occurred in the context of activity-based models (ABM) than in traditional trip-based models. Table 4 displays the strategies used by ABMs to represent HAVs.
Table 4
HAV Representation Strategies in Activity-Based
MPO Travel Demand Models
| | | | | |
| --- | --- | --- | --- | --- |
| Adjustment Technique | Ann Arbor | ARC | MTC | PSRC |
| Decrease parking costs | | x | | x |
| Decrease vehicle operating/ ownership cost | | x | | |
| Increase freeway capacity | x | x | x | x |
| Increase arterial capacity | x | x | x | x |
| Improve auto IVTT/value of time | x | x | x | x |
ARC = Atlanta Regional Commission. IVTT= In-vehicle travel time. MTC = Metropolitan Transportation Commission. PSRC = Puget Sound Regional Council.
Researchers at the Argonne National Laboratory used their POLARIS ABM to model HAV impacts on Ann Arbor's transportation system. Besides degree of market penetration, two variables were tested: improvements in user value of travel time and increases of roadways' capacities. Reductions in travel time costs produced significant increases in VMT, while capacity expansion caused a small VMT increase.51
The Atlanta Regional Commission used its regional ABM to model various characteristics of HAVs incrementally. Road capacities were doubled, then values of in-vehicle travel time were improved by 50 percent, then vehicle operating costs were reduced by 71 percent, and finally parking costs were eliminated. The value of time parameter appeared to be the most influential variable, as it caused the greatest increases in VMT, vehicle-hours traveled (VHT), and total trips, and the largest decreases in transit trips and vehicle delay. When all of the parameters were included, daily VMT rose by 24 percent; VHT increased by slightly more than 12 percent; total trips rose by 2.5 percent; transit trips dropped by more than 42 percent; and vehicle delay per person fell by 14 percent.52
The most recent attempt at modeling the impact of HAVs in the San Francisco Bay Area, using the Metropolitan Transportation Commission's ABM, disclosed that improved user values of time had greater impacts on VMT than expansions in roadway capacity. Doubling capacity caused VMT to rise by one percent while modifications in the model's mode choice value of time parameters caused VMT to increase between 8 and 24 percent. Capacity expansion, however, was shown to reduce peak congestion significantly.53
The Seattle area MPO, the Puget Sound Regional Council, used its SoundCast ABM to test the potential impacts of HAVs and SAVs. An incremental impact modeling approach was used for three of the scenarios. First, capacity on major arterials and highways was increased by 30 percent. Second, a weight of 0.65 was applied for auto trips with a high value of time (households where value of time was greater than $24.00 per hour).Parking costs were halved and the weight of 0.65 was applied to all auto trips, regardless of household value of time. This last scenario, in which value of time, parking costs, and roadway capacities were modified, was the one showing the greatest increases in VMT (19.6 percent), VHT (17.3 percent), average trip length (14.5 percent) and delay (17.7 percent). Interestingly, adjusting capacities and value of time for wealthy households, either separately or in combination, does not increase congestion even though VMT increases in those instances. Instead, the VHT and delay metrics fall, and speeds rise.54 A separate scenario was run in which all operated automobiles are assumed to be SAVs. A rate of $1.65/mile was chosen to reflect total user and system auto per mile costs and current ride-sharing taxi services.55 Significant reductions in VMT (35.4 percent), VHT (40.9 percent), delay (58.6 percent), and average trip length (15.9 percent) occurred; while average speeds rose, as did walk and transit mode shares (50 percent and 140 percent, respectively).56 Shorter trip making occurs when SAVs are used. SAV costs are too onerous for some current auto users and cause them to shift to using non-motorized trip-making modes.
Other Models
HAV technology scenarios were tested in Australia using Brisbane's TransPosition 4S (Segmented Stochastic Slice Simulation) travel model, which is based on a micro-economic framework. HAV deployment was represented by decreases in vehicle operating costs, increased trip making, and improvement in automobile in-vehicle travel time. The four tested scenarios, when compared with a baseline projection, displayed increases in vehicle kilometers (km) traveled, trip lengths, and vehicle-hours traveled, and decreases in non-motorized and transit mode shares and vehicle travel speeds.57
German researchers modeled the introduction of HAV technology using a vehicle technology diffusion model and an aspatial travel demand model. HAV technology was represented by reducing access and egress times, and reducing the value of travel time savings (25 percent).58 The results showed increase in VMT, increase in automobile mode share, and decrease in transit mode shares. Interestingly, the transit mode share decreased the most (28 to 32 percent) for long-distance trips, defined as more than 64 km. The non-motorized mode share also dropped significantly for short distance trips of less than 2 km. Transit shares fell between 8 and 20 percent, walk shares dropped between 3 and 7 percent, and bike shares decreased between 5 and 18 percent.59
Scenario planning is a method of imagining the uncertainty of the future. After several plausible scenarios of different future conditions are formulated, planners examine their potential projected impacts. Scenario planning informs the development of plan recommendations, policies, and performance targets.60 As mentioned earlier, there are numerous complex uncertainties associated with the introduction and deployment of CAV technology. FHWA is currently developing a guidebook—Scenario Planning for Connected and Autonomous Vehicles—to provide state and local agencies with information and tools to help them account for these uncertainties. Several agencies have performed scenario-planning work in which HAV and SAV deployment play prominent parts. Two different kinds of scenario planning have occurred: non-quantified scenario planning, also known as scenario thinking, and quantified planning.
Non-Quantified Scenario Planning/Scenario Thinking
Scenario thinking is used only to gauge stakeholder and public opinions regarding alternate futures, not to measure their impacts. One of the scenarios examined in the Pennsylvania Department of Transportation's LRTP, PA On Track, emphasizes statewide adoption of technology, including CAV technology and deployment.61 The 2011 scenario planning for freight mobility exercise performed by the Washington State Department of Transportation, in conjunction with the Massachusetts Institute of Technology Center for Transportation Logistics, included a "Technology Savior" scenario, in which CAV technology was heavily deployed in the commercial sector to improve efficiency.62 One of the scenarios investigated in the scenario thinking work for Baltimore Metropolitan Council's Maximize 2040 Plan was "Zuber Connected," in which significant advances in vehicle-to-vehicle and vehicle-to-network communication systems and sensors were assumed to have occurred.63 The Delaware Valley Regional Planning Commission recently performed scenario thinking focused on TNCs and shared mobility. Not surprisingly, issues surrounding CAV deployment and technology figure largely in all four of its future shared mobility scenarios.64 Dutch researchers used scenario thinking to analyze four different HAV futures for the Netherlands. Each scenario assumed different combinations and levels of technology and restrictive or supportive policies. Differing market penetration rates were also assumed.65
Quantified Scenario Planning
Two large MPOs have conducted scenario-planning exercises in which multiple futures were envisioned and then modeled.
In addition to updating discrete policies and actions, planning for CAV technology must be integrated into specific MPO products and programs that deal with the operation and maintenance of the regional transportation system. FHWA has produced a handbook that addresses how MPOs can incorporate CAV concerns into their planning efforts, as well as the impact that CAV issues will have on their planning products. This document—Connected Vehicle Impacts on Transportation Planning-Outreach to the Planning Community—lays the groundwork for handling specific planning products for which all MPOs are responsible. In accordance with this FHWA guidance, Table 5 below presents actions that the Boston Region MPO may take, which are associated with specific planning programs and products—grouped into three major categories: data/planning tools, planning processes, and outreach.
Table 5
Recommended Actions for Specific Boston Region MPO
Programs and Plans
| Categories | Related MPO Products |
| --- | --- |
| Data / Planning Tools: | |
| | Bike/Ped, CMP, Freight |
| | Bike/Ped, CMP, Freight, LRTP |
| | CMP, Finance, Freight, LRTP |
| Planning Processes: | |
| | Bike/Ped, Freight, LRTP |
| | TIP |
| | LRTP, TIP |
| | Freight, LRTP, PMP |
| | Finance, Freight, LRTP |
| | PMP |
| | PMP |
| | LRTP |
| | Finance, Freight |
| | Finance |
| | Finance |
| Outreach: | |
| | PIP |
| | PIP |
| | PIP |
| | PIP |
| | PIP |
| | PIP |
MPO Products: Bike/Ped = Bicycle and Pedestrian Plan. CMP = Congestion Management Program. Finance = Financial Plan. Freight = Freight Plan. LRTP = Long-Range Transportation Plan. PIP = Public Involvement Plan. PMP = Performance Monitoring Program. TIP = Transportation Improvement Program.
Sources: Krechmer, D., Blizzard, K., Cheung, M.G., Campbell, R., Alexiadis,V., Hyde, J., et. al. (2016). Connected Vehicle Impacts on Transportation Planning- Primer and Final Report. USDOT, FHWA-JPO-16-420. Krechmer, D., Cheung, M.G., Hyde, J., Osborne, J, Jensen, M., & Flanigan, E. (2015). Connected Vehicle Impacts on Transportation Planning: Technical Memorandum #5: Case Studies. USDOT, FHWA-JPO-16-281. Krechmer, D., Blizzard, K., Cheung, M.G., Campbell, R., Alexiadis,V., Hyde, J., et. al. (2016). Connected Vehicle Impacts on Transportation Planning- Outreach to Planning Community. USDOT, FHWA-JPO-16-413.
Keep Current and Participate
The Boston Region MPO can take many steps to prepare itself and its members for a CAV future outside of its specific mandated programs. Probably most important is to remain educated and aware of progress that is being made in CAV technology and deployment. New developments occur every day because of the heavy involvement of automakers, technology firms, universities, non-profit organizations, financial institutions, and advocacy groups. The MPO should track developments at the federal level, in other states, and locally, such as the various pilot programs surrounding CAV technology. Local examples, such as vehicle testing in South Boston and the wired adaptable parking facilities planned by the Boston Convention Center and at Assembly Row, should be monitored as well.69
Importantly, not only should the MPO monitor and support CAV testing efforts, but the MPO should become an active stakeholder in these efforts and seek opportunities to participate in ongoing and upcoming processes related to CAV technology. These activities could run the gamut from serving on research panels, to participating in a case study for CAV-focused scenario planning or modeling work, to being involved in deployment efforts. MPO members, along with the City of Boston, should participate in Smart Cities and other technology-focused events. 
Update Planning Tools
The MPO also can work to update its planning tools, including the travel demand models, to incorporate CAV considerations. Since TNCs are forecast to work in synergy with CAV technology, they should be added to models. MPO staff needs to begin collecting current data regarding TNC markets and operations within the Boston Region MPO area. Also, staff can consider conducting a new transportation household survey, as the Massachusetts Household Travel Survey pre-dates TNC penetration into the MPO area.
Develop a Strategic Plan and Shared-Mobility Action Plan
The MPO can incorporate CAV considerations into its broad policy goals. To this end, the MPO should develop a CAV strategic plan as well as a shared-mobility action plan. The strategic plan would document CAV applications and architecture that could help the MPO meet our transportation needs and goals. The plan also would present detailed recommendations for deploying and implementing projects with CAV technology that would help meet MPO objectives. The shared mobility action plan would 1) contain an assessment of the current and future shared-mobility landscape in the Boston area, and 2) guide the MPO in developing policy and funding recommendations, supporting programs, and coordinating with other agencies around shared mobility. These two plans should encourage, if not insist upon, open data sharing among providers, vehicle makers, agencies, municipalities, TNCs, and the like in the MPO region. Furthermore, such plans should work to ensure regional interoperability and interchangeability of CAV technology as it becomes deployed in the area. This could lead to the MPO playing a key role in creating a unified wayfinding program among the various regional agencies, municipalities, and providers.
The MPO needs to work individually with its members to prepare for a CAV future. MPO staff plans to hold at least one workshop about CAV research with its MPO member communities. The MPO also should facilitate informational workshops with public officials. The MPO should prepare model municipal guidance, such as land-use plans and zoning ordinances, which include CAV elements.70
The MPO ought to facilitate cooperation and coordination among CAV stakeholders. For example, TNCs and shared mobility providers should be engaged and encouraged to deploy socially equitable policies and practices. Conflicts of interest between transit, TNCs, and shared mobility providers need to be mitigated. The MPO should try to foster and further complementary relations among these groups to improve service, such as first-and last-mile connections and paratransit.71 Paratransit riders in the Boston region can already use Uber and Lyft instead of the MBTA's paratransit service; the MBTA subsidizes these TNCs for these riders. Other working partnerships between transit agencies and TNCs have already occurred in places as varied as St. Petersburg, San Diego, and Kansas City.72
Finally, the Boston Region MPO should take a flexible proactive stance towards CAV technology. The massive uncertainty associated with CAV technology will necessitate constant monitoring and re-assessing, as events may not always unfold as anticipated. The MPO needs to plan for a complex, uncertain, and potentially disruptive future with regard to HAVs. In so doing, however, it is faced with a huge opportunity to reframe the CAV discourse in light of its planning goals and objectives. While the MPO must keep abreast of the CAV phenomenon and prepare for a future when this technology is active, quite possibly the greater opportunity is for the MPO to help shape how this technology would fit into the Boston region's transportation system.
2 Government Accountability Office, Intelligent Transportation Systems:
Vehicle-to-Infrastructure Technologies Expected to Offer Benefits, but
Deployment Challenges Exist, (Washington, DC: Government Accountability
Office, 2015), doi:GAO-15-775
69 Arcadis, HR&A, & Sam Schwartz, Driverless Future: A Policy Roadmap for City Leaders, (2017), 20.
70 A.Z. Hand, Urban Mobility in a Digital Age: A Transportation Technology for Los Angeles, vii.
71 Iteris, MPOs: Preparing for Connected/Autonomous Vehicles.