.

Top Stories
Also In This Issue
For the most recent information on the following public meetings and others that may have been scheduled after TRANSReport went to press, go to www.bostonmpo.org or call (617) 973-7119. A photo ID is required to access most meeting sites.
---
Boston Region Transportation Plans Finalized
The Boston Region Metropolitan Planning Organization (MPO) voted on July 30 to approve a new Long-Range Transportation Plan, Charting Progress to 2040, and the federal fiscal years (FFYs 2016–20) Transportation Improvement Program (TIP).
Charting Progress to 2040 details projected spending on highway, transit, and multimodal projects over a 25-year period. The plan describes the major infrastructure projects—those that exceed $20 million in cost and/or that will increase the transportation system's capacity—that received the MPO's endorsement.
In addition to programming funds for specific major infrastructure projects, the MPO reserved funding in the plan for lower-cost operations and management-focused (O&M) projects, such as Complete Streets, intersection, bicycle and pedestrian, community transportation, parking, and air-quality improvement projects. The O&M funding will be assigned to specific projects when the MPO selects projects through its annual Transportation Improvement Program (TIP) process.
Concurrent with approval of Charting Progress to 2040, the MPO endorsed the FFYs 2016–20 TIP. This document details the financing for capital projects that will be constructed or implemented in the near term, including the projects programmed in the first-five years of Charting Progress to 2040.
Transportation-Planning Studies Approved
Also on July 30, the MPO approved the FFY 2016 Unified Planning Work Program (UPWP), which establishes the scope and cost of transportation-planning studies and activities that will occur in the region in the coming fiscal year, from October 2015 through September 2016. Ninety projects and programs are described in this document, many of which are ongoing activities performed by the Central Transportation Planning Staff (the staff to the MPO) and the Metropolitan Area Planning Council.
Charting Progress to 2040, the TIP, and the UPWP are available on the "Plans and Programs" page of the MPO's website, at www.boston mpo.org.
Assistance Available for First- and Last-Mile Transit Connections
The MPO is accepting applications for the First-Mile-and-Last-Mile Transit Connection Studies project, which offers planning support to municipalities, transportation management associations, or other service providers for addressing first-mile and last-mile connections between transit and employment, commercial, and residential centers.
Interested municipal officials and staff may submit applications for potential study locations to Andrew Reker by no later than Friday, October 16, 2015. Project descriptions should include: a brief rationale for the study, a description of the proposed study location, and any supporting data and documents.
Questions may be directed to Andrew Reker at areker@ctps.org or 857.702.3689.
Next Story • Previous Story • Back to Top
Boston Region MPO Activities
Amendments to Planning Documents Proposed
During the summer, the Boston Region MPO acted to amend the federal fiscal years (FFYs) 2015–18 Transportation Improvement Program (TIP) and FFY 2015 Unified Planning Work Program (UPWP).
Amendment Four to the TIP was approved on July 30, incorporating funding for storm water retrofits on highways, grants for passenger ferry service and electric bus deployment, and updates to project costs and schedules. Amendment Five to the TIP then was released for public review in August. This amendment addresses a cost increase to constructing a new highway ramp off Interstate 95 northbound to Dedham Street in Canton, and associated improvements along the Dedham Street corridor. The project, now estimated to cost $53 million, would be funded with federal aid, rather than state aid as originally planned. The amendment also addresses a cost increase to an $18.5 million project that will make improvements to the section of Commonwealth Avenue between Amory Street to Alcorn Street in Boston.
Amendment One to the UPWP also was released for public review during August. This amendment allows for transferring the budgets of two studies that will not be going forward this year. The funds will be used to supplement a study focused on improving bicycle and pedestrian access to MBTA stations on the Fairmount commuter rail line, as well as a study focused on identifying opportunities and impediments to creating transit-oriented development.
The MPO is scheduled to vote on TIP Amendment Five and UPWP Amendment One on September 3.
New Projects and Studies
The Boston Region MPO recently gave its staff approval to begin working on several new projects and studies:
Through the MBTA 2015–16 Systemwide Passenger Survey project, MPO staff will assist the MBTA to design and execute a survey of riders on the MBTA's transit services—subways, trolleys, local and express buses, bus rapid transit, commuter rail, and ferries. This comprehensive survey will gather information on riders' demographic characteristics, trip purposes, trip origins and destinations, means of accessing transit, and fare payment methods. The data gathered over the course of this project will be available to many different users, including the MBTA, MPO staff, consultants, transportation agencies, academic researchers, and members of the public. It also will provide inputs for federally required equity analyses of transit services under Title VI of the Civil Rights Act of 1964.
The MPO staff continues to explore information gathered from the Massachusetts Travel Survey, which compiled detailed data on the travel behavior of a sampling of residents in the Commonwealth, to shed light on particular transportation-planning topics. Last year, the MPO released the report, Exploring the 2011 Massachusetts Travel Survey: Focus on Journeys to Work, which offered profiles of commuter travel in the Boston MPO region. (See the May/June 2014 issue of TRANSREPORT or read the full report on the MPO's website.) The next phase of the data exploration, the Household-Survey-Based Travel Profiles and Trends: Selected Policy Topics project, will take a more in-depth look at the data to produce commuting profiles for the Boston MPO region and its subregions, and other MPO regions in the Commonwealth.
Lastly, in the Everett Transit Needs Study the MPO staff will provide travel modeling services to a MassDOT team that will be conducting comprehensive transportation planning for the City of Everett, where substantial future development is expected to occur. The MPO staff will use the travel model to provide projections of future transit ridership and roadway volumes that would result from planned development, including the proposed Wynn Casino.

REGIONAL TRANSPORTATION ADVISORY COUNCIL
Council Members Tour South Shore Project Sites
In lieu of their regularly scheduled monthly meeting in July, members of the Advisory Council took a bus tour of roadway projects and development sites on the South Shore.
They first visited the intersection of Derby Street, Whiting Street (Route 53), and Gardner Street in Hingham, where the Boston Region MPO has approved spending federal funds for an intersection improvement program. The project, scheduled to begin in FFY 2018, will make safety improvements at this high crash location by installing new traffic signals, widening the turn lanes, and adding bicycle and pedestrian accommodations.
The tour then went through Rockland and Weymouth on the Bill Delahunt Parkway, a roadway that opened in 2013 to provide access to a mixed-use development site at the former South Weymouth Naval Air Station. Approximately four hundred residential units have been built on this former military base at SouthField, a transit-oriented development (TOD) near the South Weymouth commuter rail station. More residential units are planned with retail and commercial development expected to follow.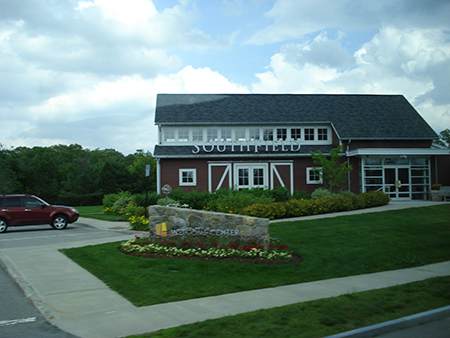 From SouthField, the tour continued to Route 18, where an MPO-supported roadway widening project is underway, and then to the intersection of Middle Street, Libbey Industrial Parkway, and Tara Drive in Weymouth. The latter is the site of another MPO-supported safety improvement project that will begin in FFY 2016.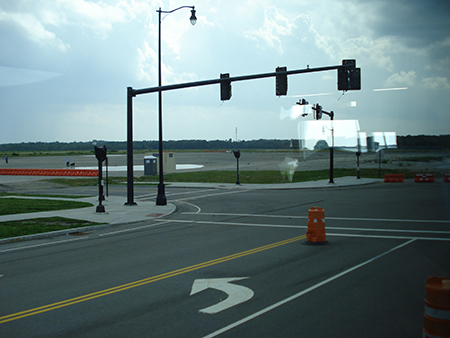 The Advisory Council thanks Owen MacDonald of the Weymouth Planning and Community Development Department for guiding the tour group. Transportation was provided courtesy of the Plymouth & Brockton Street Railway Company.  
Upcoming Advisory Council Elections  
The Advisory Council's Election Committee has begun to assemble a proposed slate for the annual election of officers. The Committee will recommend candidates for Chair and Vice Chair at the Advisory Council's meeting on September 9. Current members may nominate candidates at that meeting as well.
Candidates' statements will be distributed after the September meeting, and the election will take place at the Advisory Council's meeting on October 14. The new officers will be seated in November.

ACCESS ADVISORY COMMITTEE TO THE MBTA (AACT)

The newly elected members of AACT's Board of Directors began their two-year terms in July. James F. White was reelected as Chairman. Mr. White has held this position for several years; because of term limits, he will step down after his current term expires in 2017. Also elected were Vice Chairman, Richard E. (Rick) Morin, and board members, Beverly Ann Rock, Lisa Weber, Ian Perrault, and Mary Ann Murray.
Members of AACT joined the celebration of the 25th anniversary of the passage of the Americans with Disabilities Act (ADA) on Boston Common on July 22. The ADA prohibits discrimination and requires equal opportunities for people with disabilities with regard to employment, government services, public accommodations, commercial facilities, and transportation.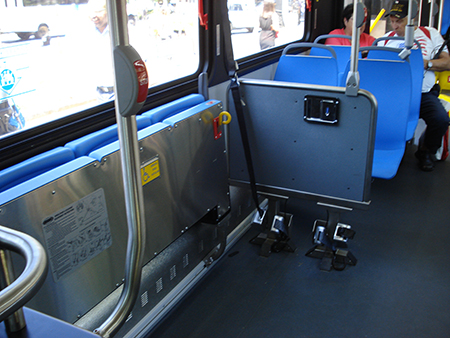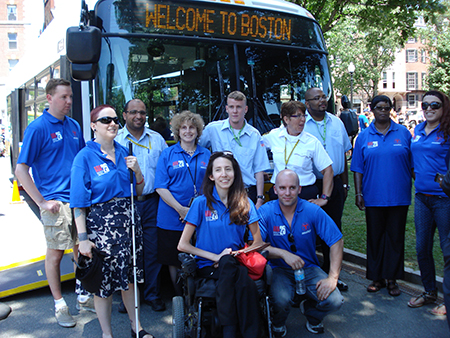 Secretary of Transportation Stephanie Pollack and MBTA staff at the ADA Celebration on Boston Common. The 1400 series MBTA bus in the background is an accessible, low-floor vehicle with a wheel chair ramp. Folding seats in the fore section of the vehicle provide wheelchair access (photo above). Back row (left to right): Ithai Larsen, Ali Abdelouahhab, Secretary Pollack, Patrick Welter, Lorraine Lansburg, Marquise Boggs, Martha Glover, and Dee Burgos. Front row (left to right): Miriam Cooper, Laura Brelsford, Kurt Echols.


Next Story • Previous Story • Back to Top
Upcoming MPO Elections; Nomination Papers Due October 2
The MPO is accepting nominations for candidates to fill four of the 12 elected municipal seats on the MPO's board. The chief-elected official (or a designee) of each elected municipality will serve a three-year term on the MPO's board.
The seats open this year are as follows:
One At-Large Town seat to be filled by any town in the region
One At-Large City seat to be filled by any city in the region
The North Suburban Planning Council (NSPC) seat to be filled by a city or town in the NSPC subregion
The Three Rivers Interlocal Council (TRIC) seat to be filled by a city or town in the TRIC subregion (See the map below for eligible municipalities in these subregions.)
Nominations papers and a statement of candidacy (limited to 250 words) are due to the Metropolitan Area Planning Council (MAPC) on Friday, October 2, 2015 by 5:00 PM.
Papers must be filed in person or mailed to MAPC, 60 Temple Place, 6th Floor, Boston, MA 02111, Attn: MPO Elections. Faxes or emails will not be accepted.
The election will occur on Thursday, October 29, at MAPC's Fall Council meeting at the University of Massachusetts-Boston Campus Center, 100 Morrissey Boulevard, Boston.
More information is available on the elections page of the MPO's website. Questions may be directed to Eric Bourassa, MAPC, at ebourassa@mapc.org or 617.451.2770 ext. 740; or Paul Regan, MBTA Advisory Board, at pregan@mbtaadvisoryboard.org or 617.426.6054.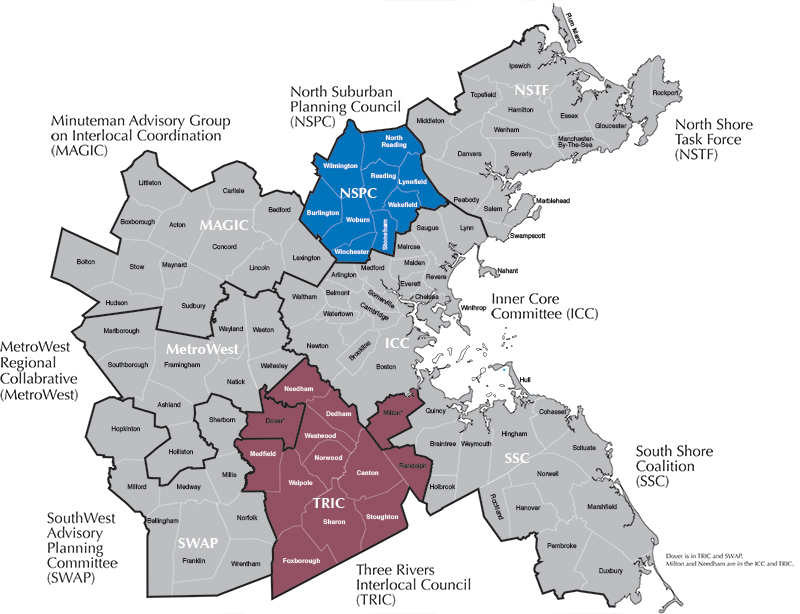 Next Story • Previous Story • Back to Top
MPO Recommends Safety and Operations Improvements in Milford, Westwood, and Weymouth
The Boston Region MPO has released recommendations for safety and traffic operations improvements at four intersections in the towns of Milford, Westwood, and Weymouth. The intersections were studied in FFY 2014 through the MPO's Safety and Operations Analyses at Selected Intersections Program, an ongoing program that supports studying several intersections each year. The reports are available on the MPO's website.

Medway Road at Kmart Driveway, Milford
The Problem:
The intersection of Medway Road and the Kmart Driveway in Milford provides poor access to and from businesses because of the lack of turning lanes, and the intersection is a high-crash location.
Potential Solutions:
To address access and safety issues, short-term solutions include adding left-turn lanes on Medway Road to provide a safe area for vehicles to access business driveways. A long-term solution is to install a roundabout at the intersection of Beaver Street and Medway Road, which would provide direct access to the Bear Hill Industrial Area.

High Street and Pond Street, Westwood
The Problem:
Pedestrian safety is a concern at the intersection of High Street and Pond Street in Westwood. Pedestrians can be in danger because there is a long crosswalk on Pond Street, where vehicles turn at high speeds, and the sight distance for motorists is poor.
Potential Solutions:
Short-term solutions include tightening the curb line radii to shorten the crosswalk, slow turning vehicles, and improve visibility. A long-term solution would be to signalize the intersection and add left-turn lanes.

High Street and Nahatan Street, Westwood
The Problem:
The intersection of High Street and Nahatan Street in Westwood experiences a high number of crashes because of traffic weaving and merging. There are also concerns about pedestrian safety, particularly as there is a school and a church at the intersection. Congestion occurs at peak travel times during the day as well.
Potential Solutions:
Short-term solutions include reconfiguring travel lanes to reduce weaving and merging, and tightening the curb line radius to improve visibility and slow turning vehicles. A long-term solution is to signalize the intersection and tighten the curb line radius.

Washington and Broad Streets,Weymouth
The Problem:
The intersection of Washington and Broad Streets in Weymouth is a high-crash location that is unsafe for pedestrians. This is of particular concern because there is an elderly housing complex nearby. The signal equipment at the intersection is outdated, which contributes to inefficient traffic flow and congestion.
Potential Solutions:
Short-term solutions include installing a high-visibility crosswalk and accessible pedestrian signal to improve safety for pedestrians. In the long-term, a total reconstruction of the
intersection may be required to address the many safety and traffic operations problems there. This would involve upgrading signal equipment to current standards, and adding left-turn lanes and bicycle accommodations.
Next Story • Previous Story • Back to Top

Pedestrian Signal-Phasing Report Released
Crossing an intersection may be safest for pedestrians when all four walk signals are on and traffic is stopped in all directions. When traffic signals are set for this "exclusive phasing," however, both pedestrians and motorists generally will need to wait longer to get the go signal than at an intersection where signals are timed so that pedestrians and traffic can move concurrently, parallel to one another. "Concurrent phasing," however, often is perceived as riskier for pedestrians because vehicles may be turning into their path.

Selecting the appropriate type of phasing for a particular site can be challenging for municipalities that must balance the need for safety with the need for efficient traffic operations.

A report released by the Boston Region MPO addresses this issue and highlights the need for developing a regional policy that would provide uniform guidelines for municipalities deciding what type of signal phasing to employ at particular intersections. Other recommendations from the report include developing warrants for justifying the selection of pedestrian signal phasing type, educating drivers about concurrent phasing to reduce conflicts between turning motorists and pedestrians, and using particular technologies to improve pedestrian safety.

The Pedestrian Signal Phasing Study is available on the MPO's website.



Next Story • Previous Story • Back to Top

What's Happening at the Boston Region MPO?

There's More than one way to find out...

Supplement your TRANSREPORT subscription by signing up on the MPO's website, www.bostonmpo.org, to get news and updates through other timely avenues, such as our MPOinfo email list, RSS feed, and Twitter.

Join MPOinfo to receive emails about special upcoming MPO outreach meetings and other opportunities to weigh in about transportation-planning decisions. Notices are sent on an as-needed basis.

Subscribe to our RSS Feed to be notified when updates are made to our website. Never miss a beat! (The sign-up link is at the bottom of the MPO's homepage.)

Or sign up on Twitter@BostonRegionMPO to get tweets notifying you about MPO meetings and other information about the transportation-planning process.

MPO meetings are open to the public. Find out when and where they are, and what's on the agenda, by visiting the Calendar page of our website. (Click on the date of a meeting in the Calendar for agendas and meeting materials.)

Transportation planning is a two-way street. Get in touch with us anytime by using our online comment form or emailing publicinformation@ctps.org.

The MPO complies with Title VI of the Civil Rights Act of 1964, the Americans with Disabilities Act (ADA) of 1990, and other federal and state nondiscrimination statutes and regulations in all programs and activities. The MPO does not discriminate on the basis of race, color, national origin, English proficiency, income, religious creed, ancestry, disability, age, gender, sexual orientation, gender identity or expression, or military service. Any person who believes herself/ himself or any specific class of persons to have been subjected to discrimination prohibited by Title VI, the ADA, or other nondiscrimination statute or regulation may, herself/himself or via a representative, file a written complaint with the MPO. A complaint must be filed no later than 180 calendar days after the date on which the person believes the discrimination to have occurred. A complaint form and additional information can be obtained by contacting the MPO or at www.boston mpo.org.