A Long-Range Transportation Plan for the Boston Region
Home » Our Work
Update in progress:
The MPO adopted its new Long-Range Transportation Plan (LRTP), Destination 2040, in August 2019. This page will be updated to reflect the new plan. In the meantime, review the adopted plan below: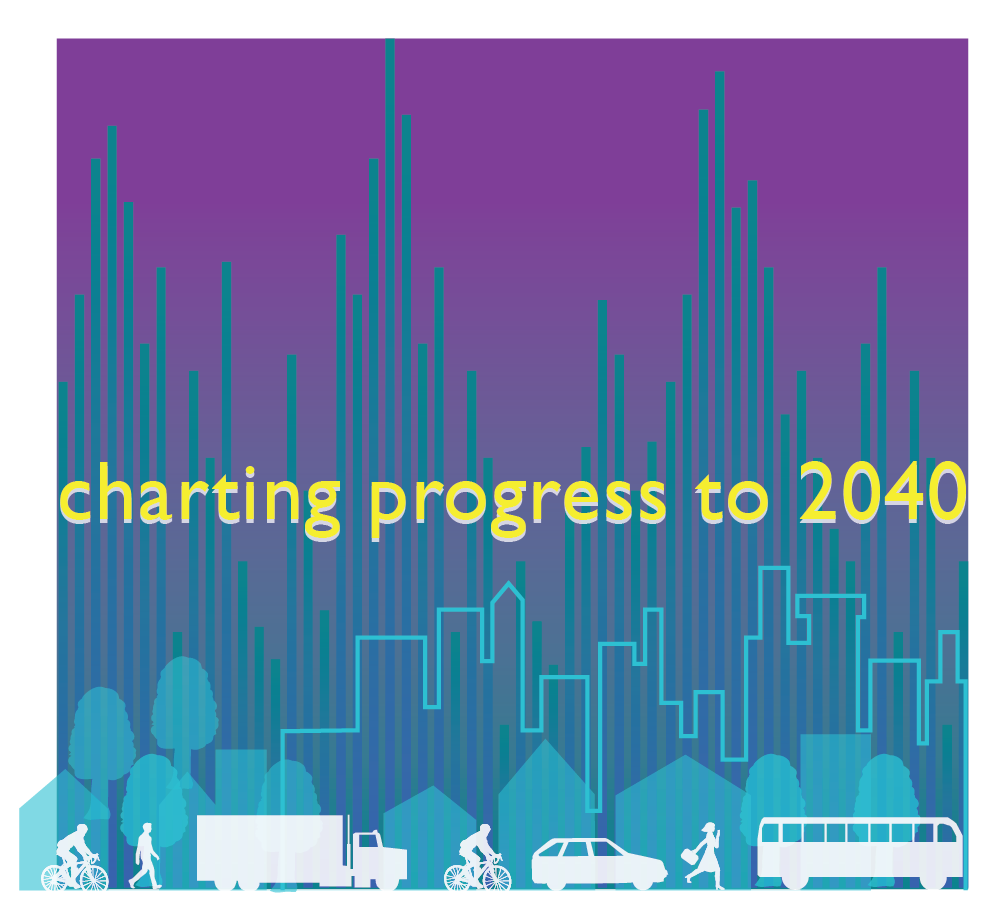 The MPO expects to program $2.85 billion in federal highway funds during the next 25 years for transportation infrastructure projects and programs. In 2015, citizens, municipalities, public agencies, and organizations from around the region came together to decide how to invest this money to improve transportation.
The MPO listened. The result, Charting Progress to 2040, represents a turning point in the philosophy and practice of the MPO. Although the Boston region has long embraced transit, cycling, and walking, this is its first long-range plan that does not prioritize regionally significant roadway-improvement projects ahead of other types of investments. Instead, it sets aside approximately half of the MPO's funding for projects that will help people get around on the transit system, bikes, and foot.
By charting this new course, the MPO hopes to achieve our collective transportation vision for the future:
A modern transportation system that is safe, uses new technologies, provides equitable access, excellent mobility, and varied transportation options—in support of a sustainable, healthy, livable, and economically vibrant region.
Endorsed in July, 2015, Charting Progress to 2040 will guide investment in our region's transportation system. It focuses on six goals:
Safety: make all modes safe
Preservation: maintain the system
Capacity Management/Mobility: use existing facility capacity more efficiently and increase healthy transportation capacity
Clean Air/Clean Communities: create an environmentally friendly transportation system
Transportation Equity: provide comparable transportation access and service quality among communities, regardless of income level or minority population
Economic Vitality: ensure our transportation network serves as a strong foundation for economic vitality
These goals and their related objectives work together to steer the region towards its ambitious 2040 vision by helping the MPO prioritize what subjects to study in its Unified Planning Work Program (UPWP), and which projects to fund in its Transportation Improvement Program (TIP). The same goals and objectives will help the MPO develop metrics with which to measure and track performance improvements in the region's transportation system.
What You'll Find in Charting Progress to 2040:
The plan—which is updated every four years to be responsive to the region's continuously evolving needs—includes information on the following topics:
Visions, goals and objectives to guide future investments
Projects recommended for funding during the 25-year time frame that cost more than $20 million each, or that add capacity to the transportation system
Needs Assessment of the region's transportation, including data that is publicly available and regularly updated
Investment programs that set aside funding for specific types of activities that meet the region's transportation needs
Forecasts of future travel demand and financial resources for operating, maintaining, and investing in the transportation system
Distributional analysis of the transportation system's benefits and burdens among potentially disadvantaged populations
Air quality conformity determination, demonstrating that the LRTP is consistent with federal and state requirements for attaining air quality standards
Downloadable Documents: PDF and Accessible Formats
Executive Summary
Appendices
On August 16, 2018, the MPO endorsed Amendment Two to the current LRTP, Charting Progress to 2040. Amendment Two documents the air quality conformity determination for the plan, which shows that the LRTP is consistent with the air quality goals set forth in the federal Clean Air Act. This amendment was required by a recent court ruling regarding the revoked 1997 national ambient air quality standard for ozone.
On August 18, 2016, the MPO amended its LRTP to make the document consistent with the MPO's recently adopted TIP—a rolling five-year plan that finances construction of highway, transit, and multimodal projects and programs—and the Massachusetts Department of Transportation's Capital Investment Program (CIP)—which documents projects that are prioritized and funded by the state. Amendment One accomplishes the following:
Transfers funds to Phase One of the Green Line Extension project (extending the line from Lechmere Station in Cambridge to Union Square in Somerville, and College Avenue in Medford) from Phase Two (the extension from College Avenue to Route 16 in Medford), in keeping with Amendment Four of the FFYs 2016–20 TIP and the FFYs 2017–21 TIP
Updates the cost for the ramp construction on Interstate 95 northbound and improvements to Canton Street and Dedham Street in Canton, Norwood, and Westwood
Programs funds for the reconstruction of Melnea Cass Boulevard in Boston, to align with the FFYs 2017–21 TIP
Documents funding for two regionally significant projects in the CIP:

Reconstruction of the Interstate 90 and Interstate 495 interchange in Hopkinton and Westborough
Construction of a new bridge connection from Burgin Parkway over the MBTA railroad in Quincy
Additional Resources
For more information, please contact Anne McGahan, MPO staff, at 857.702.3676 or amcgahan@ctps.org.